Unlocking Shopify Success: Enjoy a FREE $49 Installation Service with Your Theme License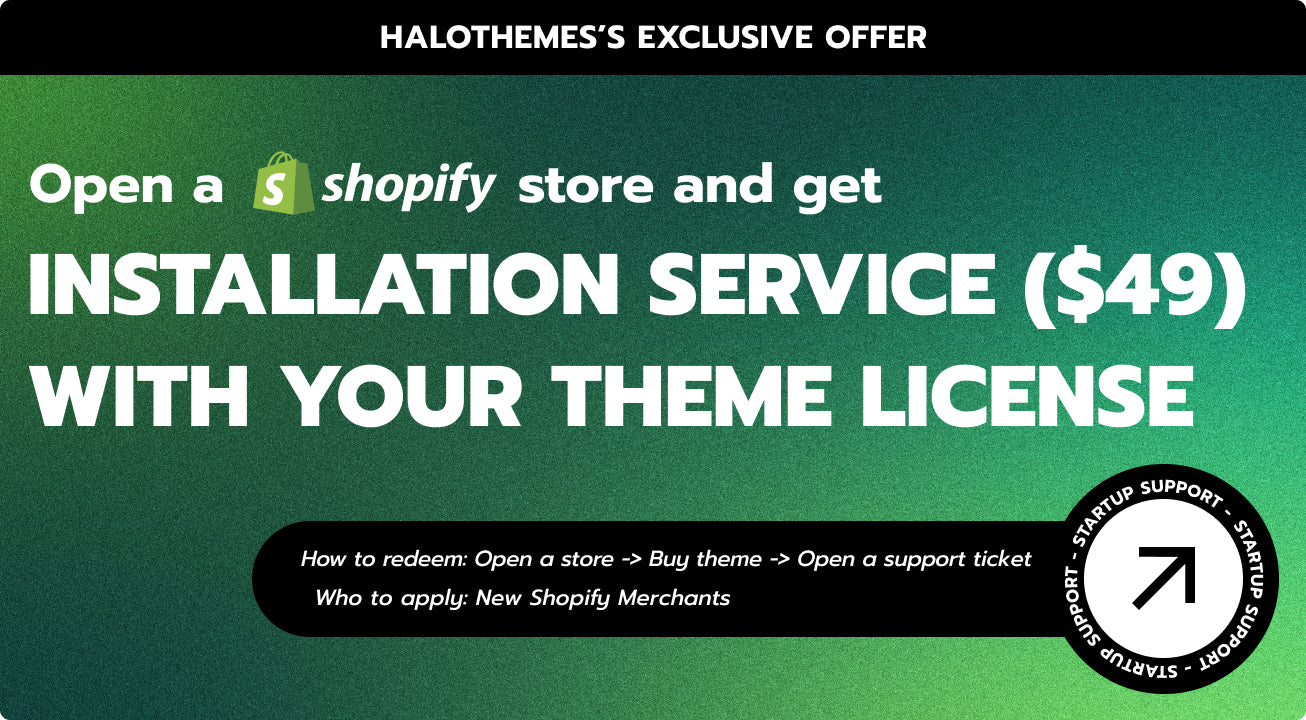 Are you a budding entrepreneur ready to embark on your e-commerce journey with Shopify? Well, you're in luck because HaloThemes has an exclusive offer just for you! We understand that starting a new online store can be a bit overwhelming, which is why we're here to provide you with the support you need.
Introducing our "Startup Support" offer! When you open a Shopify store via our Shopify link and purchase any of our theme licenses, you'll receive our Installation Service (valued at $49) absolutely FREE. Yes, you read that right – free installation to get your store up and running smoothly.
Why Should You Need Our Installation Service?
When you upload a theme source to your Shopify store, you're met with a layout featuring placeholder images. These placeholders may not be aesthetically pleasing and can make it challenging to begin setting up your store.
With our Installation Service, we take care of the following for you:
Installation and activation of your selected template on your Shopify account.
Importation of the demo images provided with the template for the activated pages. 
Comprehensive testing to ensure that the template functions as intended.
Find out more details at our Basic Installation Service
Here's how you can redeem this amazing offer in just a few simple steps:
Open a Store: First, create your Shopify store via our Shopify link: https://shopify.pxf.io/Qyzqmz. Open a Shopify store for free and you have 3 months of Shopify for 1 $/month on select plans.
Buy a Theme: Next, choose the perfect theme that suits your brand and store's aesthetics from HaloThemes' collection. Our themes are designed to make your online store stand out.
Open a Support Ticket: After purchasing your chosen theme, Open a support ticket with this title: Startup Support - Shopify Theme Installation. This is where you let us know that you're ready to take advantage of our "Startup Support" offer.
This exclusive offer is exclusively available to New Shopify Merchants, so if you're just starting your e-commerce journey, HaloThemes has got your back. Our team of experts will ensure that your selected theme is installed and integrated seamlessly, saving you time and effort.

Don't miss out on this fantastic opportunity to make your entry into the e-commerce world as smooth as possible. Get started with your Shopify store, select your dream theme from HaloThemes, and let us handle the installation – it's that easy!

At HaloThemes, we're committed to helping new entrepreneurs succeed in the world of online business. Our "Startup Support" offer is just one of the many ways we aim to make your e-commerce journey a breeze. So, take advantage of this exclusive deal and start your Shopify adventure with confidence.

Ready to launch your Shopify store with style? Head over to HaloThemes, choose your theme, and open that support ticket. We can't wait to help you turn your e-commerce dreams into reality!