HaloThemes - Your Certified BigCommerce Agency Partner for Ecommerce Success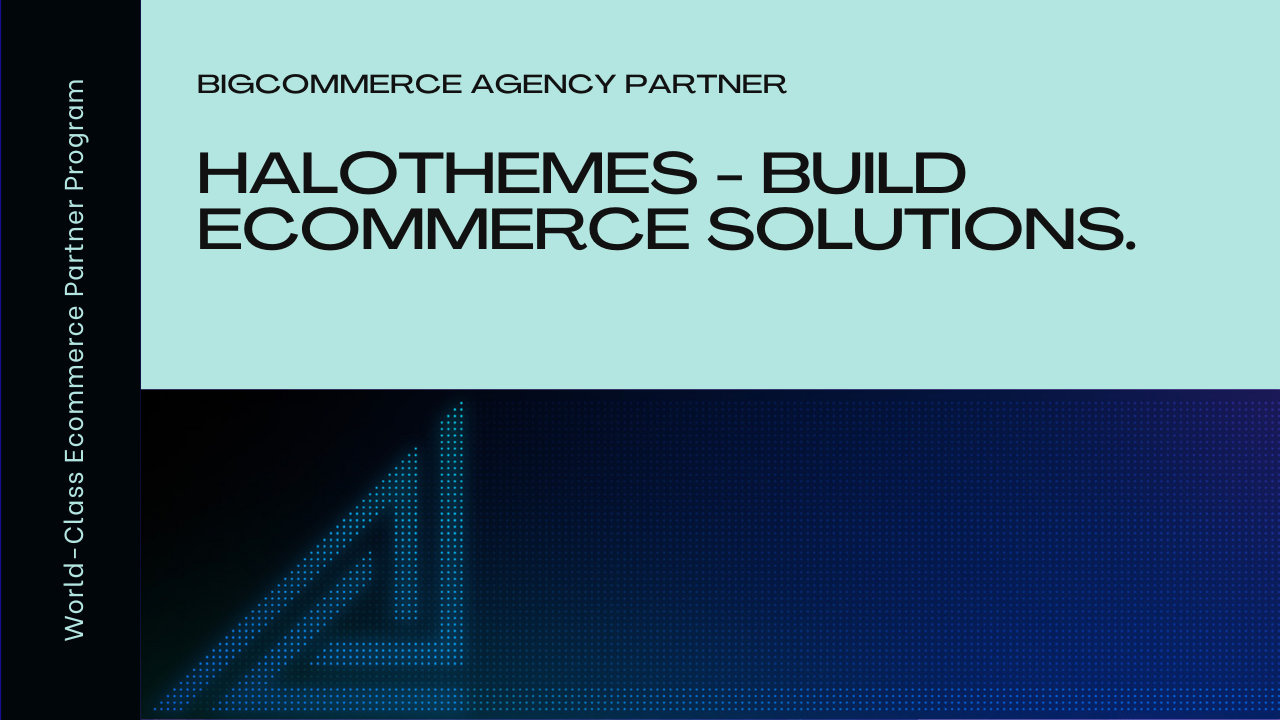 Introduction:
Established in 2014, HaloThemes is proud to announce its certification as a BigCommerce Agency Partner. We've been a trusted name in the ecommerce industry, offering official themes on the BigCommerce marketplace. Our mission is simple yet powerful: to empower your ecommerce success. We do this by providing a comprehensive range of expert services, tailored to meet your specific needs.
Whether you're in need of store development, theme customization, or ongoing support and maintenance for your BigCommerce store, HaloThemes has got you covered. What sets us apart is our unwavering commitment to delivering high-performing solutions that align with your demands and preferences. With HaloThemes, you can expect nothing less than perfect customer care and support, attentively provided by our in-house team of 100% experts with professional skills. Let us be your partner in achieving ecommerce excellence.
Our Services:
1. Custom Theme Development:
Transform your vision into reality with our BigCommerce Theme Development service. We skillfully convert your PSD, Figma, or any design into a top-tier, hand-coded, SEO-optimized, cross-browser compatible, HTML/CSS markup ready BigCommerce template.
Already have a final visual design? Simply share your design file, and we'll expertly craft a bespoke BigCommerce template tailored to your vision. We'll seamlessly set it up on your BigCommerce Store, ensuring a seamless transition from concept to reality.
Don't have a design yet? Our dedicated Design team is at your service. We offer both Design and Development Services, crafting stunning themes that captivate your audience. From conceptualization to implementation, we'll transform your ideas into a custom-designed, high-performance BigCommerce masterpiece.
2. Theme Customization Service:
Empower your business with our Theme Customization service, tailored to forge a distinctive and captivating visual identity for your online store. Collaborating closely with you, we refine and elevate your BigCommerce theme, fashioning an exquisite and intuitive store that sets you apart.
Our adept team of designers and developers possesses a profound understanding of the theme development platform. Leveraging cutting-edge tools and technologies, we craft bespoke and immersive themes that resonate with your audience and outshine the competition.
3. BigCommerce Update Service:
At HaloThemes, we understand the importance of keeping your online store up to date. That's why we're proud to be a BigCommerce Agency Partner, offering a comprehensive update service to help you stay on the cutting edge of e-commerce.

Why Platform Updates Matter:
Security: Up-to-date software ensures the security of your online store, protecting it from potential vulnerabilities and threats.
Optimizations: Stay in sync with the latest features and improvements that BigCommerce offers to enhance your store's performance and user experience.
Our Update Services Include:
Cornerstone Theme Update: We'll assist you in updating your current theme to the latest version or transitioning to the newest Cornerstone theme for a fresh look.
E-commerce Functionality: We'll help you leverage the latest e-commerce features to enhance your customers' shopping experience.
Stencil, API, Node JS Versions: Our team will ensure that your store is running the latest versions of Stencil, API, and Node JS for optimal functionality.
Payment Updates: Stay current with the latest payment gateway updates to provide seamless transactions for your customers.
Ready to elevate your online store? Click to order our update service and share your detailed requirements. Our expert team will promptly get back to you, ensuring that your store remains secure, up-to-date, and competitive in the ever-evolving world of e-commerce.
What our clients say about us?
Exceptional Service by Jerry at HaloThemes
"As a business, venturing into the digital landscape can often be fraught with unpredictable challenges and technical snags. However, when you have a support system as robust and efficient as HaloThemes, these hurdles transform into opportunities for growth and learning. Our recent experience with them stands as a testament to their exemplary service. We approached HaloThemes with a concern regarding our store's theme, Glassos - Responsive BigCommerce Stencil, on BigCommerce. An unexpected email from BigCommerce had alerted us to incompatible SCSS directives in our theme, threatening the integrity of our storefront UI styling. Understandably, we were worried. From the moment we reached out, Jerry at HaloThemes took charge of the situation with an expertise and dedication that was nothing short of outstanding. It wasn't just the technical proficiency that impressed us, but the manner in which the service was rendered. Jerry exuded a level of professionalism and warmth that transformed a stressful situation into a seamless process. But it wasn't just the quality of service that had us singing praises; the cost-effectiveness of their solutions was a game-changer for us. The competitive pricing offered by HaloThemes has led us to reconsider our approach to website management. Outsourcing our website updates to them seems not only viable but also a financially prudent decision. Their ability to deliver ahead of schedule was the icing on the cake. In a world where time is of the essence, their promptness was a refreshing and highly appreciated change. However, what truly sealed our loyalty to HaloThemes was their post-service support. When we encountered an issue with the website page buttons, Jerry addressed and resolved the matter with such swiftness that it left us thoroughly impressed. Our website is now running flawlessly, thanks to his diligent efforts. In conclusion, our experience with HaloThemes, particularly with Jerry, was nothing short of exceptional." by Dave from United Kingdom
4. Theme Update Service:
In the event that your extensively modified or customized theme requires professional intervention, our expert team is at your service. We provide solutions to ensure the continuous optimization, updating, and safeguarding of your themes. Updating your theme to the latest version is pivotal to harnessing BigCommerce's latest features, bolstering security, and addressing bugs.
Our Services Include:
Updating your theme source to the latest version.
Preserving your settings and setup within the theme.
Keeping your custom code modifications from the previous theme source.
Assisting in the reinstallation of apps for seamless integration.
5. Website UI Design:
Elevate your online presence with our comprehensive design services. From crafting a distinctive logo that embodies your brand's identity to designing captivating home page banners that exude professionalism, our expert team is dedicated to enhancing your website's visual appeal. If you're looking for a designer to create your unique, eye-catching, professional, and modern-looking landing/homepage or a full website UI design, let us serve you.
What we offer:
Logo Design.
PSD/XD/SKETCH & Figma Full Website UI Design/Landing page/Homepage design.
Graphic Banners to give the professional look.
Verticals Serviced:
Art & Photography
Automotive
Beauty & Skincare
Books & Magazines
Business to Business (B2B)
Construction & Industrial
Consumer Electronics
Consumer Packaged Goods
Education
Fashion & Accessories
Food & Beverage
Gifts & Collectibles
Health & Wellness
Home & Interiors
Jewelry
Lifestyle
Pets
Service-Based Industries
Sports & Equipment
Stationary & Office Supplies
Tactical & Firearms
Toys & Games
Vape & CBD
XXX & Adult
With HaloThemes, your ecommerce success is not a goal; it's a guarantee. Partner with us today and experience the difference.
It's time to come with BigCommerce and HaloThemes