Streamline Your Online Business with Our Comprehensive Shopify Website Setup Service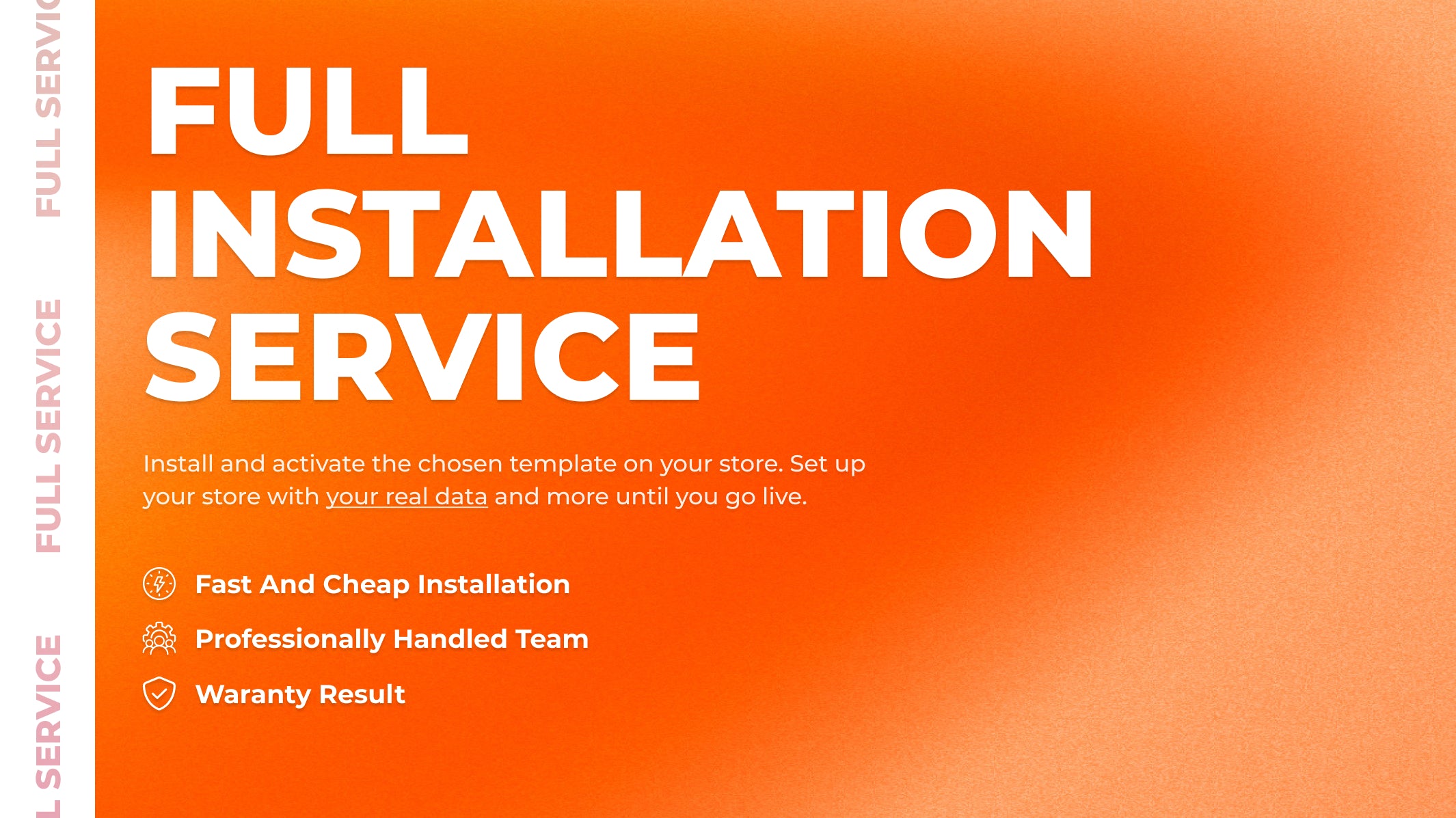 In the digital age, establishing a strong online presence is essential for businesses of all sizes. E-commerce platforms like Shopify have revolutionized the way businesses operate, allowing entrepreneurs to easily set up and manage their online stores. However, navigating the intricacies of Shopify's features and customization options can be daunting for those without technical expertise. This is where a professional Shopify Website Setup Service comes into play. In this blog post, we'll delve into the benefits and key aspects of utilizing such a service to kickstart your e-commerce journey.
Let's dive in.
What is a Shopify Website Setup Service?
Website setup refers to the process of creating and configuring a website from scratch. It involves various tasks such as domain registration, hosting setup, content management system installation, and website design customization.
A Shopify Website Setup Service is a comprehensive solution offered by web development experts to help businesses launch their online stores effectively. These services are designed to take the guesswork out of creating a visually appealing, user-friendly, and functional e-commerce website. Whether you're a small business owner or a budding entrepreneur, opting for professional assistance ensures that your online store is optimized for success from the outset.
Benefits of Using a Shopify Website Setup Service
1. Expertise and Experience
Setting up a Shopify store involves a multitude of decisions, from selecting the right theme to configuring payment gateways and shipping options. A professional setup service provides you with the expertise of seasoned developers who are well-versed in Shopify's features. They can guide you through the process, making informed decisions to create a store that aligns with your brand and business goals.
2. Customization
A cookie-cutter approach won't help your online store stand out in a competitive market. A Shopify Website Setup Service enables you to customize your store's design, layout, and functionality to reflect your unique brand identity. Developers can create custom themes or tailor existing ones to suit your business, ensuring a cohesive and professional appearance.
3. Time and Cost Efficiency
For entrepreneurs, time is a valuable resource. Attempting to set up a Shopify store without the necessary knowledge can lead to frustration and wasted time. By hiring professionals, you can fast-track the setup process, allowing you to focus on other crucial aspects of your business. While there's an upfront cost associated with these services, the time and potential revenue saved in the long run often outweigh the initial investment.
4. Technical Support
Even after your Shopify store is up and running, technical issues or questions are bound to arise. A Shopify Website Setup Service typically includes post-launch support, ensuring that you have a lifeline to experts who can promptly address any issues that may arise.
5. SEO Optimization
A vital component of any online store's success is its search engine visibility. Professional setup services understand the importance of SEO (Search Engine Optimization) and can implement best practices from the beginning. This sets a strong foundation for your store to rank well in search engine results, driving organic traffic and potential customers.
Key Aspects of a Shopify Website Setup Service
1. Consultation
The process begins with a consultation where the developers get to know your business, brand, and goals. This helps them tailor the setup to align with your vision and requirements.
2. Theme Selection and Customization
Developers assist you in choosing a suitable theme and then customize it to match your brand identity. This includes adjusting colors, fonts, layouts, and more.
3. Product Setup
Creating and organizing product listings can be time-consuming. Professionals can efficiently set up your product catalog, complete with images, descriptions, and pricing.
4. Payment Gateways and Shipping
A seamless checkout experience is crucial. Experts configure payment gateways and shipping options to ensure your customers have hassle-free transactions.
5. Mobile Responsiveness
In an era dominated by mobile devices, your online store must be responsive and user-friendly on various screen sizes. A setup service ensures your store looks and functions well across all devices.
6. SEO and Analytics Integration
To drive traffic and monitor performance, integrating SEO tools and analytics is essential. Experts set up these tools, enabling you to track and optimize your store's performance.
7. Launch and Support
If you encounter any issues post-launch, Shopify experts can provide technical support and troubleshooting, ensuring that your store runs smoothly.
Why Choose Halothemes?
Halothemes is a trusted name in the industry, known for their exceptional Shopify themes and top-notch customer service. Here are some reasons why you should choose Halothemes for your website setup:
Expertise: Halothemes has a team of experienced professionals who specialize in Shopify. We have in-depth knowledge of the platform and can handle any customization or setup requirement.
Customization: With Halothemes, you can personalize your online store to reflect your brand identity. We offer a wide range of customization options, from choosing the perfect color scheme to adding unique features.
Time-Saving: Setting up a Shopify website can be time-consuming, especially if you're new to the platform. Halothemes takes care of the entire installation process, allowing you to focus on other aspects of your business.
Responsive Design: In today's mobile-driven world, having a responsive website is crucial. Halothemes ensures that your Shopify theme is fully optimized for all devices, providing a seamless browsing experience for your customers.
Ongoing Support: Even after your website is set up, Halothemes continues to provide support and assistance. Whether you have questions or need help with updates, our dedicated support team is always there for you.
How Does the Installation Service Work?
Getting started with Halothemes is easy. Simply follow these steps:
Choose Your Theme: Browse through Halothemes' collection of stunning Shopify themes and select the one that suits your business needs.
Purchase the Theme: Once you've found the perfect theme, purchase it from Halothemes' website.
Provide Details: After the purchase, you'll be prompted to provide the necessary details for the installation, such as your Shopify store URL and any specific customization requests.
Sit Back and Relax: Once you've provided the details, Halothemes takes care of the rest. We will install and set up your chosen theme, ensuring that everything is working perfectly.
Review and Launch: Once the installation is complete, Halothemes will give you an opportunity to review the website and make any final adjustments. Once you're satisfied, it's time to launch your online store!
With Halothemes' full installation service, you can have a professional and visually appealing Shopify website without the hassle. Don't waste time trying to figure it out on your own – let the experts handle it for you. Get started with Halothemes today and take your online business to new heights!
Benefits of Our Service:
Time and Resource Savings: Launching a Shopify store involves a learning curve. Our experts handle the technical aspects, allowing you to focus on your core business activities.
Professional Aesthetics: A professionally designed store inspires trust and credibility, increasing the likelihood of attracting and retaining customers.
Optimized User Experience: Our service ensures that your store is easy to navigate, reducing bounce rates and increasing the chances of conversion.
Maximized Functionality: With our app recommendations, your store gains access to tools that can help you market effectively, manage inventory, and analyze performance.
Scalability and Growth: A well-structured Shopify store sets the stage for seamless scalability as your business grows.
By choosing our "Full Installation Service," you can focus on your core business activities while we handle the intricate details of website setup. Let us take care of the technicalities, so you can launch your website with confidence.
Get Started with Our "Full Installation Service" Today!
Ready to launch your website without any hassle? Take advantage of our "Full Installation Service" now and experience a seamless website setup process.
Click here to purchase our "Full Installation Service" and unlock the full potential of your website.
Showcases: Real-life Store crafted with HaloThemes's Full Installation Service
These real-life success stories exemplify the transformative impact of HaloThemes' Full Installation Service on businesses looking to establish a robust online presence. By combining design expertise, technical proficiency, and a deep understanding of e-commerce, HaloThemes brings visions to life, creating platforms that engage, inspire, and drive growth.
Bonsai Outlet: World's Leading Online Bonsai Company with more than 51,000 healthy trees sold, plus equipment supplies

Client: Bonsai Outlet

Business Focus: Online retailer of plants and gardening supplies

Challenge: Bonsai Outlet aimed to transition from an idea to a thriving online platform, requiring an aesthetically pleasing and easy-to-navigate e-commerce store.
"The initial process wasn't easy, but I was able to locate manufacturers and suppliers who were willing to supply me with high-quality products at an affordable price. We were officially off and running. Of course there were bumps along the way, but perhaps I'll save that story for another day. - Ashley R. Carrier
Solution: HaloThemes' Full Installation Service brought the beauty of nature online by creating a visually engaging and intuitive e-commerce platform. The service included:

Implementation of the Tribes theme while utilizing the existing images and products from their current website for the new theme.

Provision of a Full Store Setup Service: HaloThemes assists in configuring the website with their own data, including Products, Menus, and Banners. We incorporate their materials to showcase on their site, ensuring that image sizes are adjusted for optimal alignment with the new theme.

Assistance with the installation of new fonts and the adjustment of the website's color scheme to best match the brand's identity.

Result: Bonsai Outlet's online store became a hub for plant enthusiasts, both novice and experienced. The store's educational content and appealing design inspired confidence in buyers, leading to a surge in online orders and a notable expansion of their customer base.
Conclusion
In the world of e-commerce, a well-crafted online store can make all the difference in engaging customers and driving sales. Our Shopify Website Setup Service is designed to simplify the process, allowing you to focus on your business while we handle the intricacies of creating a visually appealing, functional, and user-friendly Shopify store. Elevate your online presence with HaloThemes's expertise and embark on a journey towards e-commerce success.
Ready to take your business online with Shopify? Contact us today to learn more about our Shopify Website Setup Service and how we can help you establish a captivating online storefront that reflects your brand's uniqueness.