Is Shopify Dawn the Ultimate Shopify Theme for your online store? A Comprehensive Review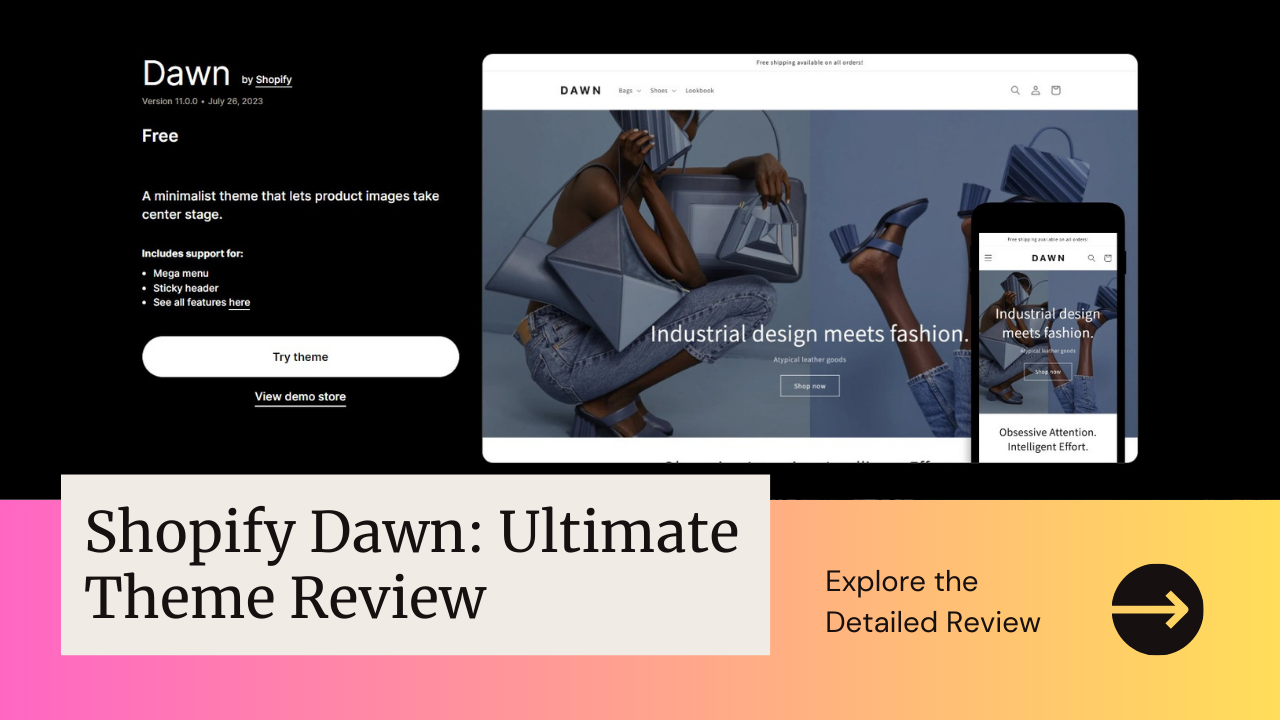 Introduce Dawn Theme
The Shopify Dawn theme is a versatile and modern option for online stores. It offers a clean and minimalist design that allows your products to shine. With its user-friendly interface and seamless integration with Shopify, setting up your store with Dawn is a breeze. The theme provides a range of features to enhance the functionality and aesthetics of your online store, including a sticky header, product quick view, and a responsive layout.
Choosing a template suitable for a business is extremely important
Branding and Visual Appeal: The theme sets the tone for your brand and creates the first impression for your customers. It is essential to choose a theme that aligns with your brand identity and reflects the desired image you want to portray. A visually appealing and professional-looking theme helps build trust and credibility with your customers.
User Experience: A well-designed theme enhances the overall user experience, making it easier for customers to navigate your store, find products, and make purchases. A theme with intuitive navigation, clear product categorization, and easy-to-use search functionality improves customer satisfaction and encourages repeat visits.
Click here to start selling online now with Shopify
Overview of Shopify Dawn theme
The Dawn theme is a visually appealing and modern theme designed specifically for Shopify online stores. Its clean and minimalist design aesthetic makes it suitable for a wide range of industries and product types. With its sleek and professional layout, Dawn creates an attractive and engaging online shopping experience for customers.
Dawn offers a range of customization options, allowing you to tailor the theme to match your brand identity. You can easily customize colors, fonts, and layouts to create a unique and personalized look for your online store. The theme also provides multiple homepage sections, giving you the flexibility to showcase featured products, collections, or promotions.
Features of the Dawn theme:
Clean and Minimalist Design: The Dawn theme boasts a sleek and modern aesthetic design, with a focus on clean lines and minimalist elements. This design approach creates a visually appealing and professional look for your online store. 
Smooth Animations and Effects: Shopify has introduced new animations and hover effects within Dawn version 11.0.0. This update includes a 'Zoom in on scroll' animation option for the Image with text and Image banner sections. Additionally, Shopify has added a 'Vertical lift' hover effect option to cards and buttons.
Customizable Homepage Sections: The theme provides multiple homepage sections that you can easily customize to showcase featured products, collections, promotions, or any other content you want to highlight. This flexibility allows you to create a unique and engaging homepage layout.
Responsive Design: The Dawn theme is fully responsive, ensuring that your online store looks and functions seamlessly across various devices and screen sizes. This mobile-friendly design is essential for providing a positive user experience for customers shopping on smartphones and tablets.
Advanced Product Filtering: The theme includes advanced product filtering options, allowing customers to quickly and easily find the products they are looking for. This feature improves the usability of your store and helps customers navigate through your product catalog more efficiently.
Customizable Header: Tailor your store's header to suit your brand, including options for different header styles, navigation, and logo placement.
Customizable Footer: Customize your store's footer with links, social media icons, payment options, and more.
Product Pages: Individual product pages are designed for a seamless shopping experience. You can include multiple product images, descriptions, prices, and variants.
Collection Pages: Organize products into collections and use customizable collection pages to showcase them effectively.
Featured Promotions: Highlight promotions, discounts, or featured products to attract customer attention.
Customizable Content Sections: Utilize content sections to add unique content like banners, images, text, and videos to enhance your homepage and other pages.
Search Functionality: A robust search feature helps customers quickly find products using keywords, including auto-suggestions.
Blog Integration: Built-in blog functionality allows you to create and manage a blog to engage your customers with valuable content.
Flexible Color Options: Customize your store's color scheme to match your brand's identity.
Typography Choices: Choose from a variety of fonts and typography options to make your store's text more appealing.
Image Zoom: Customers can view product images up close with image zoom functionality.
Inventory Management: Keep track of your product inventory with integrated inventory management features.
SEO-Friendly: Built with SEO best practices to help your store rank well in search engines.
Social Sharing: Encourage social sharing with integrated social media buttons on product pages.
Checkout: The Dawn theme provides a seamless and secure checkout experience for your customers.
Installation Process
By default, Dawn Theme is added as the default published theme when you open a Shopify store so you don't need to find and add it.
If you don't see the Dawn theme within your Shopify store, you can follow the instructions below to install it:
Access the Shopify Theme Store: Log in to your Shopify admin panel and navigate to the Shopify Theme Store. 
Browse and Select the Dawn Theme: Search for the Dawn theme in the Shopify Theme Store or access it directly through the Shopify Theme Store link. 
Install the Theme: Click on the "Try theme" button to install the Dawn theme to your Shopify store.
Customize and Publish: Once the theme is installed, you can customize it according to your brand's requirements before publishing it live. 
HaloThemes Exclusive Offer for New Shopify Merchants
Unlock a special deal! Open your Shopify store and purchase any of our theme licenses, you'll receive FREE Installation Service $49
Claim Your Offer
Let's Dive into the Editor: How Does It Work?
Customize General Settings:
In the Shopify admin panel, go to "Online Store" and then "Themes"
Find the Dawn theme and click on "Customize" to access the theme editor.
Configure Theme Settings:
It's where you will find the settings to configure elements: Logo, colors, fonts, and layout options to match your brand's identity.
Configure Header and Footer:
Customize the header and footer sections by adding your logo, navigation menus, and any other desired elements.
Set Up Homepage:
Utilize the theme editor's sections to set up your homepage.
Add and arrange sections like featured products, collections, banners, testimonials, and more to create an engaging homepage layout.
Pros and Cons of the Dawn Theme
Pros of using the Dawn theme on your Shopify store:
Modern and Professional Design: The Dawn theme features a sleek and modern design that is perfect for showcasing products and creating a professional online store.
Customizable: The theme editor allows for extensive customization options, enabling you to personalize the theme's colors, fonts, layouts, and other visual elements to match your brand's identity. Dawn offers 17 sections to allow you to create different structures and satisfy any specific requirements.
Responsive: The Dawn theme is fully responsive, ensuring that your online store looks great on all devices, including desktops, tablets, and smartphones.
SEO-friendly: The theme is optimized for search engines, making it easier for your website to rank higher in search engine results pages (SERPs).
Cost: Free of charge
Works with the latest Shopify features: Theme is guaranteed to stay up to date and work with Shopify's ever-growing feature set.
Free theme updates: Get the latest theme features and fixes. You can redownload your purchase at any time.
Cons of using the Dawn theme on your Shopify store:
Common Design: Many online stores use free themes, so your store's design may not stand out or feel unique. The theme doesn't have multiple layouts that some merchants may need for their specific business
Less Advanced Features: Dawn still lacks advanced e-commerce features and functionalities that are available in premium themes. You may have to pay for the customization or paid apps to have advanced features which will cost you a lots.
Limited Customization Options: While the theme editor allows for extensive customization options, some users may find the options to be limited compared to other paid themes. Free themes also have limited customization options, making it challenging to create a unique and highly personalized website.
Support: Free themes typically receive less comprehensive customer support compared to premium themes, which can be a disadvantage if you encounter issues.
Overall, the Dawn theme is a great option for those looking for a modern and professional design that is customizable and SEO-friendly. However, it may not be the best option for those who require extensive third-party integrations or advanced customization options.
Shopify Dawn Theme Real-Stores To Inspire You
Shopify's Dawn theme is a versatile and visually appealing option for online stores. With its modern design and user-friendly features, it has become a popular choice among e-commerce businesses. we will explore some real-life examples of successful stores that have used the Shopify Dawn theme to create stunning and inspiring online shopping experiences. Let's dive in and discover how these businesses have leveraged the theme's potential to stand out in the competitive e-commerce landscape.
Julia Bakery - a renowned bakery known for its delectable range of pastries, cakes, and bread. Located in the heart of the city, it has been serving customers with its mouthwatering creations for over a decade.
SCOTeVest - a renowned bakery known for its delectable range of pastries, cakes, and bread. Located in the heart of the city, it has been serving customers with its mouthwatering creations for over a decade.
Smash Burger - a popular fast-casual restaurant chain that has gained a reputation for its mouthwatering burgers and flavorful menu options.
Ella Theme - An Alternative Fashion Option for Shopify Stores:
Looking to take your online store to the next level? Look no further than Ella Shopify Theme. With a rich array of features, Ella empowers you to build a remarkable online presence that engages customers and drives sales.
Key Features:
Top-Notch Designs: Ella offers an impressive array of designs, layouts, and styles, allowing you to craft unique structures that cater to diverse business needs. No matter what type of business you operate, Ella's versatile designs ensure you'll make a lasting impression.
Clean Code and User-Friendly Settings: Ella's clean and well-organized code simplifies the customization process. With user-friendly settings, you can effortlessly tweak your store's appearance to align with your brand identity.
Maximum Customizability: Adapt your store to your unique vision. Ella provides a high level of customizability, ensuring that your store is as distinctive as your business. Tailor the theme to suit your specific requirements with ease.
Impeccable UI/UX & Animation: Elevate your customers' shopping experience with Ella's impeccable User Interface/User Experience (UI/UX) and stunning animations. Create a smooth, intuitive, and visually appealing journey for your visitors.
Feature-Rich Functionalities: Ella is packed with features that enhance the functionality of your store. From seamless navigation to advanced search options, Ella equips your store with tools to impress and convert visitors into loyal customers.

Discover the endless possibilities with Ella Shopify Theme and embark on a journey to create an e-commerce store that stands out from the crowd. With top-notch designs, clean code, maximum customizability, impeccable UI/UX, and feature-rich functionalities, Ella is your path to e-commerce excellence.
2023's Best Selling eCommerce Websites Templates
Ella is #1 best selling Shopify Theme of all time on Envato market
Explore Theme
Conclusion
In conclusion, the Dawn theme by Shopify is a versatile and powerful tool for creating visually stunning and engaging online stores. Through its clean and minimalist design, seamless navigation options, and customization features, the Dawn theme offers businesses the opportunity to showcase their products and tell their brand story effectively.
Overall, the Shopify Dawn theme offers a range of features and possibilities for businesses looking to create visually appealing and user-friendly online stores. Whether it's through its minimalist design, seamless navigation, engaging storytelling, customization options, or mobile optimization, the Dawn theme has proven to be a valuable asset for businesses seeking to create memorable and successful e-commerce experiences.