[Gear Up for BFCM 2023] Exclusive BFCM Deals on Top-Notch Shopify Apps for Your Shopify Store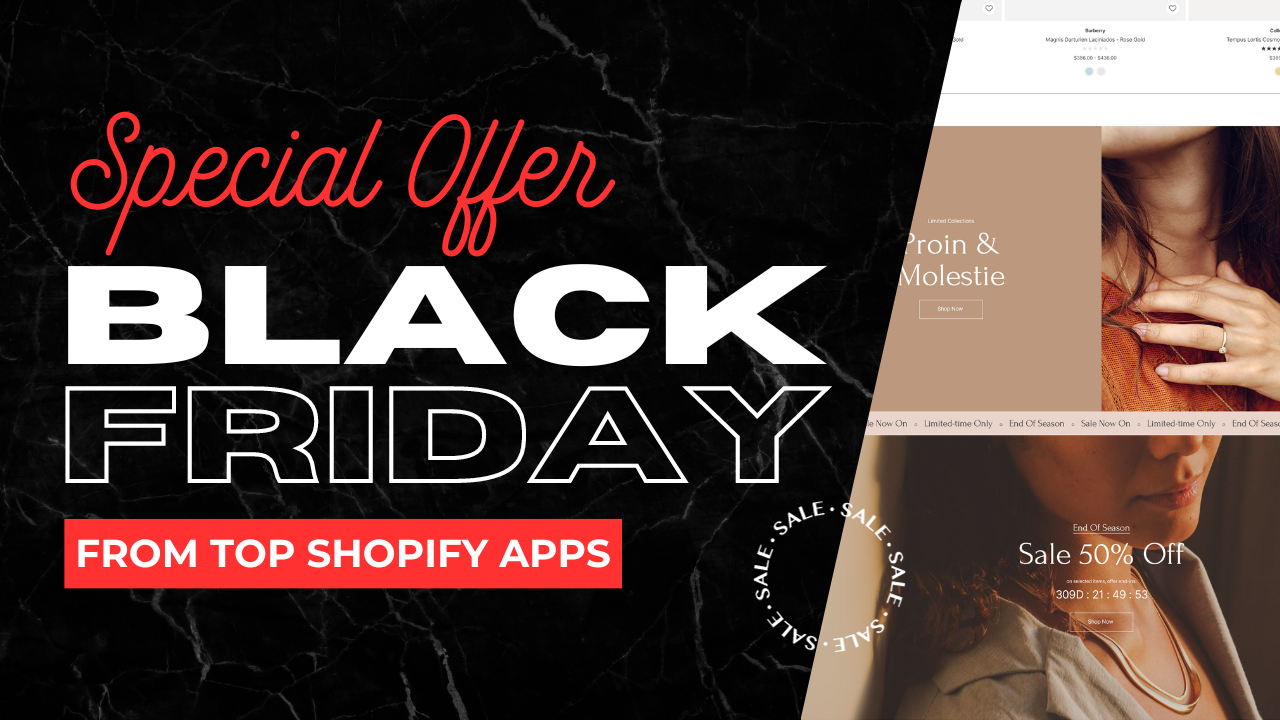 As the countdown to Black Friday and Cyber Monday begins, it's time to supercharge your Shopify store for unprecedented success. To ensure your business thrives during the BFCM frenzy, we've curated a list of exclusive deals on top-notch Shopify apps that will elevate your store to new heights.
Shopify merchants broke a BFCM sales record, hitting $7.5B in 2022!
Here are the key highlights:
Peak Sales Moment: Black Friday witnessed the highest shopping volume, reaching peak sales of over $3.5 million per minute at 12:01 PM EST on November 25.
Global Consumers: 52 million consumers globally purchased from independent brands powered by Shopify, marking a 12% increase from 2021.
Average Spending: Consumers globally spent an average of $102.10 per order throughout the weekend (or $104.80 on a constant currency basis), surpassing the global average of $100.70 shared by Shopify last year.
Top-Selling Locations: The top-selling cities included London, New York, and Los Angeles. The United States, United Kingdom, and Canada ranked among the top-selling countries worldwide.
Product Categories: The top product categories were Apparel & Accessories, followed by Health & Beauty, and Home & Garden. Trending products included Gymshark (Training Leggings), MIELLE (Rosemary Mint Scalp & Hair Strengthening Oil), and Our Place (Always Pan).
Sales Channels: Black Friday Cyber Monday was predominantly driven by online sales, with 73% of sales made on mobile devices and 27% on desktop.
Cross-Border Orders: Cross-border orders constituted 15% of all global orders, with popular cross-border routes including Canada-United States, United States-Canada, and United Kingdom-United States.
Eco-Conscious Initiative: Over 56,000 tonnes of carbon removal were funded to counteract emissions from the delivery of every order placed on Shopify's platform during the Black Friday Cyber Monday weekend.
Unlock Massive Savings with Top Shopify Apps for BFCM
As the pivotal days of Black Friday and Cyber Monday approach, Shopify apps emerge as the powerhouse behind successful e-commerce endeavors. Brace yourself for BIG DEALS on the most essential apps available on Shopify.
Our curated selection encompasses top-tier apps that promise unparalleled value during the discount extravaganza. Seize this golden opportunity during the sale season to acquire these apps at unbeatable prices. We anticipate that these apps will seamlessly integrate into your business, serving as the catalyst for enhanced conversions and maximizing potential throughout the entire BFCM weekend and beyond.
UpPromote Affiliate & Referral
UpPromote is the top-recommended affiliate and referral marketing app designed to skyrocket your revenue and customer engagement with this BFCM.
With UpPromote, you can effortlessly set up a powerful affiliate marketing system tailor-made to match your brand's unique needs. It allows you to create affiliate programs, reward your brand advocates, and drive more traffic and conversions. Whether you're a new or established Shopify store, UpPromote offers flexible solutions for everyone.
Key features:
Easy-to-use: Quick setting up process with detailed instructions.
Automated processes with automated functions: Auto-generated affiliate links, coupons, and auto-approval affiliates/referrals.
Build your affiliate team: Customizable affiliate registration form. Create unlimited affiliate programs with different commission offers.
Seamlessly track referral orders via affiliate links, coupons, and connected emails
Motivate affiliates with powerful options: bonuses, gifts, store credit, and MLM
Automate your affiliate program process: PayPal auto-pay, Auto-tier Commission
Exclusive BFCM Offer: For this BFCM season, HaloThemes customers can take advantage of our exclusive promotion. By installing UpPromote now, you can enjoy a generous 20% discount on all paid plans. This limited-time offer is available to new users until December 31, 2023.
Avada SEO Suite
The Avada SEO Suite is a comprehensive tool for Shopify store owners aiming to boost their site's SEO and user experience. It offers a range of features, including image optimization, automatic SEO issue fixing, and Google Structure Data implementation. All are designed to align with Google's search algorithm requirements.
With a user-friendly interface requiring no coding skills, this suite significantly improves website loading speed and overall performance, making it a hassle-free solution for enhancing a store's online visibility and traffic.
Key features:
Faster page speed: Image/ALT optimization, Lazy loading, etc.
Improved SEO: Google Structured Data, HTML Sitemap, etc.
Automated SEO check: Ensures your content is SEO-friendly.
Link fixes: Detects and repairs broken links for a smooth experience.
SEO reports: Provides performance insights for your site's health.
Exclusive holiday offer: Use code BFCM2023 to get 20% OFF all paid plans for the first 2 months.
Note: This BFCM offer applies to Halothemes & new users only.
SearchPie SEO Booster & Speed
SearchPie is a premium choice for stores of all sizes looking to improve SEO and attract more organic traffic. We focus on three key areas: localization, website speed, and personalized tools that keep your store ahead of the competition. With localization, its Google Business Profile feature helps to increase the visibility of your physical store.
SearchPie offers Instant page, AMP, and image compression that speed up your website. What's the best is SearchPie provides custom SEO reports and services to meet every specific need in SEO.
Key features:
SEO-customized report and resolve SEO issues.
Content optimization with AI generator.
Increase website trust by building strong backlinks
Traffic boost with targeting the right audience through Keyword research
Speed optimization with instant page loading, AMP, and image compression.
Auto Rich Snippets with JSON-LD.
And more
Exclusive holiday offer: This BFCM season, HaloThemes customers can seize our exclusive promotion. By installing SearchPie now, you unlock a generous 20% discount.
Note: Apply for first time users only
EcomVideos: Viral UGC Videos
EcomVideos is a marketplace where you can find over 150 certified UGC creators from the US. What makes us different from the crowd is our crazy high standards for our creators. We're talking the cream of the crop – only 10% of applicants make the cut. Plus, we run an in-house UGC Academy where we school 'em on making killer, conversion-heavy video ads.
To sum it up: better quality content, lower prices, and a rock-solid 100% satisfaction guarantee. We're all about making our clients results with zero risk. 
Key features:
Access to over 150 certified UGC creators from US
If you don't love the videos you get - don't have to pay!
Get a custom UGC video in 2-3 business days
Our copywriters will write full script & scenario for you
Exclusive holiday offer: This BFCM season, HaloThemes customers can grab our exclusive promotion. By using EcomVideos now, apply code HT10 to enjoy 10% OFF for all users.
Growave: Loyalty & Wishlist
Growave is your all-in-one marketing solution for Shopify, combining loyalty, referrals, rewards, gift cards, VIP tiers, reviews, and wishlists in a single app. It is built exclusively for Shopify, and all the features work seamlessly together to effectively grow your business.
Growave offers multi-language support, real-time analytics, and 24/7 world-class support. The app is easily managed from a single dashboard, and no coding is needed. Elevate your online store with Growave and boost sales effortlessly. 
Key Features:
Increase repeat purchases and retention with loyalty program, VIP tiers, rewards
Acquire more customers organically through referral program and save on ad spend
Implement wishlists and trigger emails to boost sales: on sale, back in stock
Collect photo & product reviews on autopilot. Reviews on Google search results
Showcase Instagram photos & UGC to build social proof and drive conversions
Exclusive holiday offer: 10% OFF for all paid plans for the first 3 months, promo code "HALO10"
Note: Applies for new users only.
Expiration date: December 31, 2023
HaloThemes Exclusive Offer for New Shopify Merchants
Unlock a special deal! Open your Shopify store and purchase any of our theme licenses, you'll receive FREE Installation Service $49
Claim Your Offer
Conclusion
Get ready to revolutionize your Shopify store and outshine the competition this BFCM. With our exclusive deals on top-notch Shopify apps, you're not just preparing for the event – you're setting the stage for long-term success.
Don't wait! Dive into the world of exclusive BFCM deals and elevate your Shopify store to unprecedented heights. Your journey to BFCM success starts here!